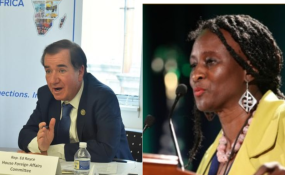 Ambassador Robin Renee Sanders
Since the
U.S. BUILD Act
was signed into law last See featured column article, first published in the prestigious, pan-Africa online media outlet,
Allafrica.com
, written by the former Chairman of the U.S. Congress House of Representatives Foreign Relations Committee, Ed Royce and former U.S. Ambassador to Nigeria, Dr. Robin Renee Sanders, on the importance of the U.S. Government's, BUILD Act. The BUILD Act seeks to invigorates US-Africa economic ties:
Africa: How the BUILD Act Can Invigorate U.S. Economic Ties
.
The article was also reprinted/republished by the following prestigious organization/associations, overseas and domestic newspapers and wire services, and online outlets focused on business and the economy:
I. Key newsletters of the following prestigious government, business, and diplomatic organizations & associations published & share article with their members: CCA, International Global Development (IGD), American Academy of Diplomacy, and American Academy of National Security Leaders
II. The list of overseas & domestic publications which published the article:
·
Washington Afro American
·
Washington Business Journal
·
Washington Chinese News
·
Washington Life Magazine
III. The following online media outlets also picked up the press release on the Royce-Sanders article: